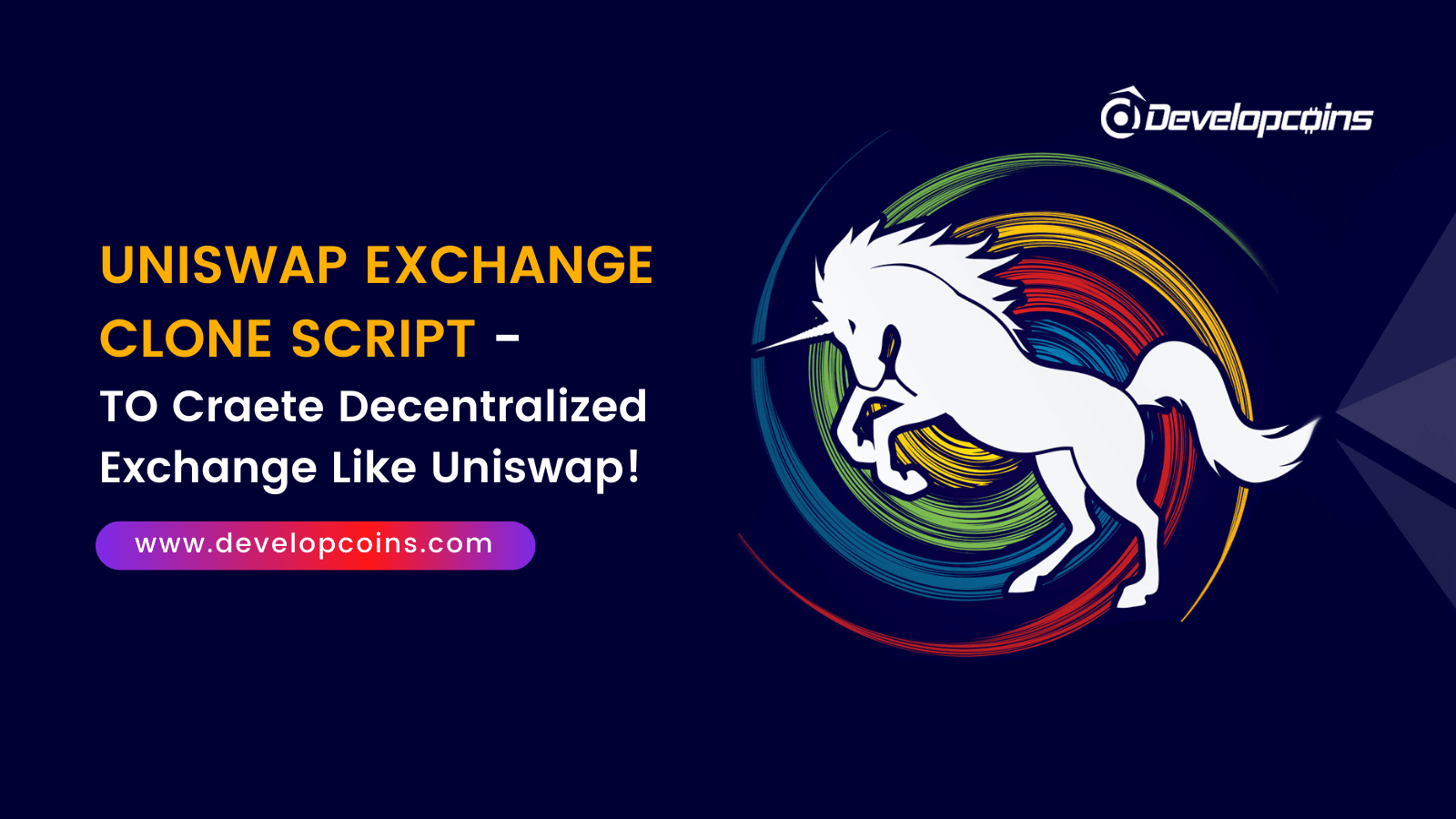 Looking to Build a Decentralized Exchange (DEX) Platform Like Uniswap? Here is the step-by-step guide for Newbies 2021
Want to create DeFi protocol like Uniswap? looking forward to a ready-made Uniswap Exchange Clone Script? or Want to Know What is Uniswap, and why is it getting more popular, How to create a DeFi Exchange like Uniswap? Find out in our comprehensive guide.
Decentralized based business solutions are successfully reached their market cap and engage N number users worldwide especially for Decentralized based exchanges like DEX which solve a huge number of problems when compare to centralized exchanges such as
Risk of hacking
Violation
Unreasonable fees
And more
Apart from that, decentralized exchanges also face some the problems, primarily lack liquidity – that means a lack of money overflowing around an exchange which creates trading faster and more efficiently. That's where Uniswap arrives in the crypto era and trying to solve the decentralized exchange's liquidity problem by enabling the exchange to swap tokens without depending on buyers and sellers generating that liquidity.

Here we analyze and explain the overview of Uniswap & it's working strategies and how it developed into one of the most popular decentralized exchanges on the Ethereum network. Before that, get some idea about the Liquidity Pool.
Introduction of Liquidity Pool
When comes to a decentralized exchange on the Ethereum platform it follows two types of exchange terms such as
Order book peer-to-peer exchanges (Eg Radar Relay)
Liquidity pool exchanges (e.g. Kyber, Uniswap and Bancor)
Order Book Exchanges
It depends on an order place system to accomplish trades. When traders place an order at their preferred price for a token, the exchange's matching engine only allows the trade once an opposite order at that price is avaiable.

Traders who place orders on the order book are called "Market Makers" and traders who implement their orders against orders already on the order book are called "Takers". A token's price is fixed by the traders who select at what price level to place orders.

This entire setup works adequately well when there are enough buyers and sellers in the market, but there are a few unavoidable problems: tokens that lack liquidity due to low interest not only become hard to buy and sell but are also exposed to unpredictable price swings provoked by large individual transactions. Therefore, tokens that are defined by high price volatility and ineffective conversions are rare to be adopted.
Liquidity Pools:
Liquidity pools give the best solutions for this difficulty by cut-down the dependence of tokens on trade volume and establishing constant liquidity.
Liquidity pools are pools of tokens that are secured in a smart contract. They are used to help trading by offering liquidity and are broadly used by some of the decentralized exchanges alias DEXes.

Compared to the traditional order book model, liquidity pools have four primary advantages:
Approved liquidity at every price level
Automated pricing enables passive market making
Anyone can become a liquidity provider and earn
Lower gas fees
Overview of Uniswap
Uniswap has become one of the most profitable and successful projects which is part of the Decentralized Finance DeFi development.

It is a decentralized protocol for automated liquidity provision on Ethereum. In easy terms, It stores massive amounts of Ethereum network-based tokens, which allows the protocol to provide favorable services that weren't already available in the market. It allows traders to swap Ethereum tokens without the requirement of an exchange or order book.
Uniswap is the marketplace where it allows Traders, developers, and the liquidity providers to access the platform globally with full access. It is a set of computer programs which run on Ethereum Blockchain.

Uniswap utilizes an algorithmic equation that significantly defines the swap rate based on the balances of both tokens and the actual demand for this swapping pair.
Who Created Uniswap?

Hayden Adams is the founder of Uniswap, one of the most widely used decentralized applications was publicly announced and deployed to the Ethereum mainnet on November 2, 2018. Prior to Uniswap, Hayden was an engineer at Siemens. He graduated from Stony Brook University with a bachelor in engineering in 2016.
How Uniswap Works?
Basically, Uniswap is a decentralized protocol that stores a huge amount of Ethereum ERC20 tokens. It acts as a pair, two tokens are utilized. Now it works on the version of uniswap V2. It works on the mechanism proof-of-concept (PoC).

Uniswap is an automated liquidity protocol high-powered by a constant product formula and enforced in a module of immutable smart contracts on the Ethereum blockchain. It avoids the need for intermediaries, prioritizing decentralization, censorship resistance, and security. Uniswap is open-source software licensed under the GPL.

Every Uniswap immutable smart contract, or pair, manages a liquidity pool made up of reserves of two ERC-20 tokens.

Anybody can become a liquidity provider for a pool by securing an equivalent value of each underlying token in return for pool tokens. These tokens check pro-rata LP shares of the total reserves and can be reclaimed for the underlying assets at any time.
Here we have explained in a simple manner:
1. Select the token you'd like to exchange from.
2. Select the token you'd like to exchange to.
3. Click on Swap.
4. Preview the transaction
5. Confirm the transaction request in your wallet.
6. Wait for the transaction to be confirmed on the Ethereum blockchain.
Explore More From Here - How Uniswap Works?
Uniswap Liquidity Pools
Uniswap provides liquidity provision to the end-user, where the trader can either add/remove the liquidity.
How To Add Liquidity On Uniswap?
1. Deposit equivalent value of ETH and ERC20 tokens
2. Enter into Pool
3. Match your deposit with the corresponding Token
4. Exchange fee | Gas fee
5. Add Liquidity and confirm your Metamask Transaction.
How To Delete Liquidity On Uniswap?
1. Go to Pool
2. Select the pair
3. Remove
Difference Between Uniswap V1 & Uniswap V2?
Uniswap V1
Uniswap V1 was the proof-of-concept for a new form of decentralized marketplace. It established the foundation of on-chain token swaps and decentralized liquidity pools that provided users rewards for adding liquidity and charged low fees to make token swaps.
Instead of an order book, token exchange rates are determined using what is termed the "constant product formula", which will shortly be revisited further down. It actually provides a mechanism to carry a token's value balanced relative to the token pair in question.
The basic token pairs (like DAI to ETH, or DAI to USDC etc) have individual liquidity pools combined with them, where users can add to the liquidity by providing either one of the tokens in the specified pool. Liquidity providers have then rewarded a share of a 0.3% fee whenever a transaction is made.
Features of Uniswap V1
Add on any support of ERC20 token using the Uniswap factory
Unify liquidity pools to collect fees on ETH-ERC20 token pairs
Trade ETH for any ERC20 without wrapping
Trade any ERC20 for any ERC20 in every single transaction
Trade and transfer to multiple addresses in a single transaction
Liquidity-sensitive automated pricing utilizing constant product formula
Lowest gas cost of any decentralized exchange
Support for private and custom uniswap exchanges
Buy ERC20 tokens from any wallet using ENS
Partially verified smart contracts written in Vyper
Mobile-optimized open-source frontend utilization
Funded via an Ethereum Foundation grant
Uniswap V2
Uniswap V2 delivers a wide range of upgrades and improvements to the protocol that creates upon the swapping and liquidity mechanisms the first iteration released.
The primary developments include:
Uniswap V2 provides users with 3 types of options to swap their tokens pairs, utilizing the "Router Contract."
Anyhow? What is Router Contract
The Router Contract is nothing but it's one type of digital contract which covers routing logic to send your tokens to the right swapping contract. In other terms, the router contract is aware of every swapping contract that establishes the Uniswap V2 protocol.
Uniswap Potentially Follows and Allows 3 Swappings which covers:
Direct ERC20 Token Swap: It allows a direct swap between two ERC20 pairs. For instance, two stable tokens like DAI/USDC may prove very useful for traders.
Regular swap through ETH, where you pay fees double.
Custom path swaps where you can create a more complex swapping path such as DAI/ETH, ETH/BAT, BAT/USDT, and USDT/USDC to convert your DAI to USDC. Generally, this provides traders with interesting arbitrage opportunities.
Advantages & Disadvantages of Uniswap
There is no doubt in the fact that Decentralized based business terms have made our lives so much simpler and have allowed a lot of things which only dreamed a few decades back. But every coin has two sides. Let us take a look at Uniswap's advantages and disadvantages.
Advantages of using Uniswap
Purely Decentralised, not depend on third parties. Anyone can join to a Uniswap contract by web3 and create custom dApps on top of the protocol.
Power to create a decentralized exchange for any Ethereum ERC20 token.
Non-profit
Low-cost to trade similar to other decentralized exchanges
Liquidity pools where anyone can participate, with 0.3% commissions that are split between all liquidity providers.
Can be enlarged/built upon. Custom pools can be booted and add flexibility to developer requirements.
you can analyze with the liquidity pooling and swapping of tokens in a risk-free environment.
Disadvantages of Uniswap
Depend on arbitrage trading to support exchange rates in check, so there will always be a requirement for other forms of exchange to manage the Uniswap exchange rates balanced
Gas prices are required to be spent to execute swaps — Also for ERC20 to ERC20 token swaps. As Ethereum scales, these gas prices will completely reduce and finally become a non-issue.
Want to Build Your Own Decentralized Protocol Like Uniswap? Or looking for Decentralized Finance DeFi Development Services? Then you are in the right place!
How To Create a Decentralized Protocol like Uniswap?
A DeFi is becoming more popular throughout the world, many companies are starting to realize the importance of DeFi development for their business. But they have no idea about the DeFi, cost of DeFi development and the technical skills needed to develop these decentralized protocols like Uniswap, So many organizations face a lot of challenges in this competitive world.
But as many DeFi development companies are realizing the demand for DeFi and understand that specified requirements, these DeFi development companies are developing DeFi aimed at providing a solution for how to create decentralized protocols like Uniswap. The trending solution involves companies launching DeFi based business with complete solutions.
Take a look here - What is Decentralized Finance (DeFi) - A Comprehensive Guide For Beginners!
The process of creating decentralized protocols like Uniswap can take time to complete. From finding qualified DeFi developers and explaining your focus to having the DeFi developed and making revisions—the whole process can be confusing and very time-consuming. That being said, many businesses are learning how to create a decentralized protocol like Uniswap with the help of online (but that's not easy). And many are choosing the best DeFi development service provider on the planet like "Developcoins"
Uniswap Exchange Clone Script To Create DeFi Exchange like Uniswap!
DeFi Exchange combines the best features from top decentralized exchange to DeFi token development into one solution. Whether you want to create a decentralized Finance DeFi Exchange website or even a Uniswap Exchange -as a platform – Uniswap Exchange Clone Script is flexible enough to handle every & all Uniswap Exchange Clone development service provider needs.
What is a Uniswap Clone?
A Uniswap clone is an Defi exchange that provides services like that of the decentralized Exchange platform, Uniswap. Uniswap Exchange Clone can be considered a replica of the original Uniswap that has a function similar to the original decentralized exchange like Uniswap. They also have certain advanced features that are maybe missing in the original Uniswap. Our Uniswap Exchange Clone popular which offers some very advanced and customized features which can be further bespoke as per your business requirement.
What is a Uniswap Clone Script?
It is the entire source code of the Uniswap functionality that tries to compete the original Uniswap. The initial stage in the development of a Uniswap clone is to prepare a Uniswap clone script. Uniswap clone script is a plot of how the DEX must function. Creating innovative ideas and listing them down takes place during the development of a Uniswap clone script.
Developcoins: Customizable Uniswap Clone For Decentralized Exchange Business
Inspired by the success of Uniswap in DeFi era and other DeFi exchanges like Airswap, Atomex, IDEX, Kyperswap, etc – Developcoins has been built to provide an 'All-in-One' DeFi exchange development solution, backed by a robust & scalable DeFi exchange clone software architecture.
Unlike our competitors, we don't keep you waiting for days to get your DeFi exchange built. Our dedicated team of DeFi experts lets you get your decentralized exchange platform ready with all the features within a promised time frame.
Decentralized Finance (DeFi) based business economy is booming. People nowadays prefer reliable 'All-in-One' DeFi exchange like Uniswap to manage all their exchange and other services from a single interface. However, our Uniswap Exchange Clone provides niche-specific DeFi exchange solutions for a more targeted market focus.
Why Use Our Uniswap Clone Script?
Complete decentralized liquidity solution
Support for Multi-crypto token trading pairs
Fast & Instant Swapping
100% Customizable
Prebuilt Scripts
Scalable & Clean Design
Multi-Language & Multi-Crypto Token Support
Referral & Promotions
User-friendly UI/UX
Liquidity Pools
Integrated Crypto Wallets
Top-performing pools
Flash Swapping
Perfectly Integrated & Audited Immutable Smart Contract
And more
We Beat the Competitors
Here at Developcoins, we understand that we aren't the only DeFi development company out there. We have competitors around the world. But what makes us unique is the fact that our DeFi based business projects are built as complete and innovative decentralized ecosystems with help of experienced & skilled DeFi developers.
Would you like to build decentralized exchange protocols like Uniswap efficiently and in a shorter time frame? Well, that is all made possible with Developcoins. We show you how to develop decentralized Ethereum protocols like Uniswap for beginners, and strong coding experience is needed to develop a DEX platform like Uniswap.
We build your decentralized exchange protocol like Uniswap with advanced and innovative technologies. We start to build your decentralized protocol with complete features which covers
Account
Uniswap Function
Liquidity Pools
Token Addition
User Provision
User Features
Admin Features
Admin Revenue model
And more
Ready to Build Your Decentralized Exchange Protocol like Uniswap? Let's Get Started.
Uniswap Exchange Clone is a DeFi exchange like Uniswap. Our Uniswap Exchange Clone Script comes into the market with all advanced features of Uniswap helps to create & start a decentralized exchange platform immediately.
To buy our Uniswap Exchange Clone Script, Drop an email or consult with our experts via Telegram or Whatsapp & our team will contact you then we will explain and help you to launch your own DEX like Uniswap. Besides this, the backend database and admin panel are hosted on an AWS or Digital Ocean server based on client needs. Admin has complete access to the data generated.
Yes, Our Uniswap Exchange Clone Script can be customized to any extent to serve the DEX business model. We provide end-to-end customization solutions as per your business requirements.
It takes approximately 3-4 weeks to build a decentralized exchange like Uniswap from start to finish, providing we have all the information from you. The major functionality needs may also play an important role – more complex DEX sites will take more time to develop.