Metaverse Game Development Company
Metaverse, the trending term in the world, in recent days, its industry data, market size and demographics are enhancing positively. The metaverse future prediction reveals that almost 75% of people will spend at least an hour in the metaverse by 2030 and 50% of software companies will deliver metaverse-related products, services and solutions. This tempts entrepreneurs to start their own businesses in the metaverse space, especially in metaverse game development.
Developcoins, a leading Metaverse game development company delivers innovative metaverse game development services with cutting-edge technology that uplifts the success of gamepreneiurs and makes them stand ahead in the gaming industry. We work on several tech stacks like Unity, Unreal Engine, etc., to offer users a hassle-free experience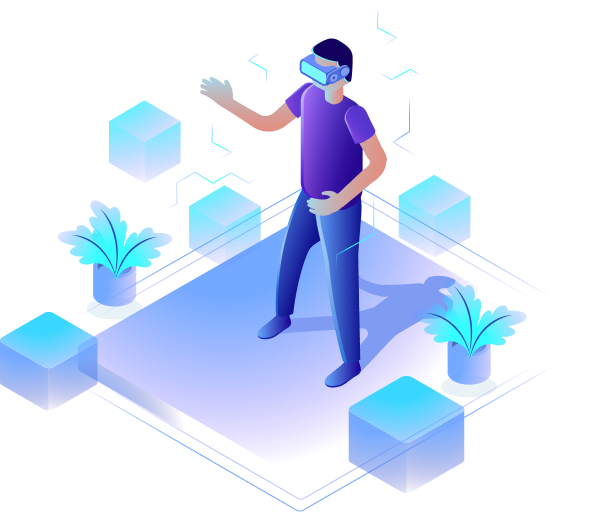 Why Create Metaverse Games?
Gamers always wish to live in the game and the metaverse games furnish a real-time experience that makes them feel like they are living in the game. Apart from this, metaverse game development is emerging for these statistics!

By 2023, Metaverse Game Apps Will Generate $4Billion.

By 2024, Metaverse Market Will Reach $800Billion
Benefits Of Launching Metaverse Games

Real Time Experience

Wide Audience Reach

Guaranteed Return On Investment

Risk & Hassle Free
Types Of Metaverse Games We Develop

AR/VR Games
Our extended metaverse game development services cover 3D game applications that are compatible with Android, IOS, and iPad.

Puzzle Games
We are specialized in developing entertaining puzzle games with stunning features like social sharing aspects, leaderboards and also with appealing UI/UX.

Adventure Games
Our talented metaverse game developers develop adventure games with personalization features that let gamepreneurs handle each player's milestones and prizes.

Fantasy Games
Enter the realm of fantasy sports games and experience a stunning gaming platform with our professional fantasy game developers.

Sports Betting Game
With our sports betting app development services, we deliver the best sports betting game and a live feed as per the clients' requirements.

Strategy Games
We develop and deploy the most stunning strategy games with attractive images and graphics that leads players to new interesting difficulties.

Rummy-Games
Experience and deliver eye-catching visuals to your users on your rummy games with our feature-rich rummy game creation services.

Action Games
Let your users make money with our action game development services. Our NFT-based metaverse game development services let to sell metaverse racing game platform assets in the real world.

Mobile Games
We develop, launch and deploy games for both iOS and Android with the best gaming engines like Unity.
Features Of Our Metaverse Games
Cross Chain Interoperability
Why Developcoins For Metaverse Game Development?



UI/UX Design And Development


Technology And Tools Integration

Build A Bridge Between The Real & Imaginary World With Us With Our Metaverse Game Development Services!