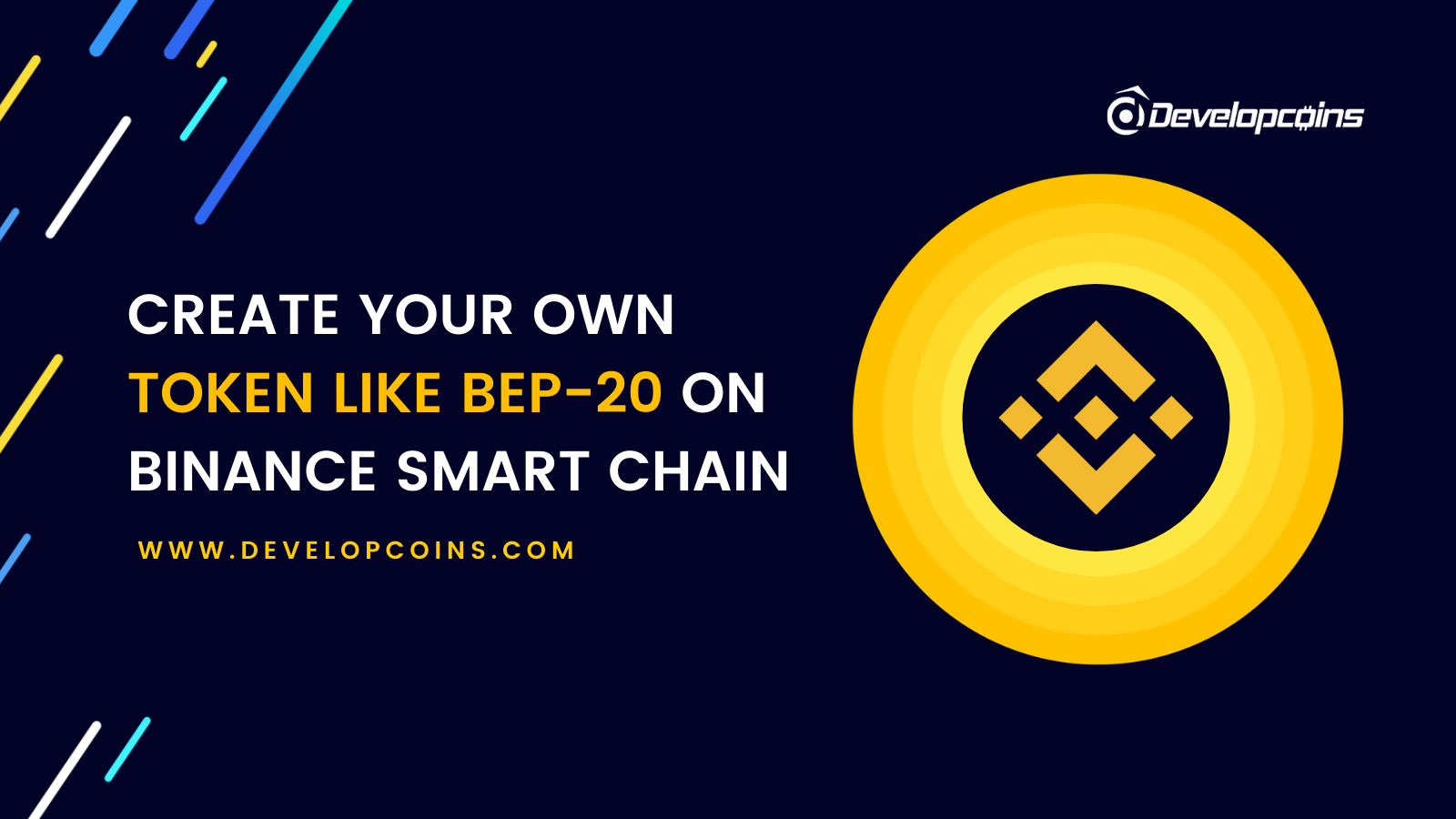 Looking to build a Binance Smart Chain BEP20 like Token Development?
In this Modern era, Token is used widely for financial transactions in various industries based on it is created aim. Token has some value for itself and most importantly the value of the token is not a fixed one, it varies based on the domain, the token is going to get used. The tokens are generated for various purposes like for personal, business, etc and there are various types of Tokens available in the market. Tokens are built by writing and deploying smart contracts in the popular blockchain platforms such as Ethereum, Tron, EOS, Binance Chain, Etc.
In this article, we have to see about What is Binance Chain and how to create your own token on Binance Chain, and more
Binance - In Simple Words
Binance is one of the most popular Cryptocurrency exchange that offers trading in more than 45 digital coins such as BITCOIN, ETHEREUM, LITECOIN, etc. Binance native coin called as Binance Coin (BNB), Binance network is launched their own blockchain network such called as Binance Chain which increases the flexibility and speed-ability of the blockchain network.
What Is Binance Chain - The Native Blockchain For Binance DEX
Binance Chain is a type of blockchain project which was initiated by the Binance community in April 2019 it brings a new level of freedom for traders, as well as to projects that are looking to raise money or liquidity.
It aims to carry the best features for exchanges in a decentralized platform!. Binance DEX is the decentralized exchange module developed on the top of the Binance Chain and it allows for the exchange of digital assets that are issued and listed on the DEX.
Binance Chain has instant transaction facilities it contains a one-second block time, Compared with other blockchains this is a much faster blockchain today. Its primary focus is to facilitate fast transactions.
Due to the Smart contract functionality, it may be optimized for fast trading and significantly secure the Binance Chain network. Binance Chain is a community-driven development project and builds by developers from all over the world.
Binance DEX was designed to handle the equal amount of transactions that the current Binance platform handles, Binance DEX can handle the trading volumes more than centralized exchanges, this can easily fix the speed issues in the DEX Platforms
What Is The Design Principle Of The Binance Chain?
It is mainly designed for no custody of funds that is traders can maintain the control of their own private keys and funds
It performs in high throughput for a large user base and also contains a high liquidity trading.
It contains very low cost for both in fees and liquidity.
It also minimizes front-running to the extent of fair trading.
It is able to improve the technology stack, ideas, and architecture.
What Can You Do On Binance Chain?
By using Binance Chain you can easily send and receive BNB
You can issue new tokens on Binance Chain
Users can also send, receive, mint their tokens
You can send orders to buy or sell assets through trading pairs that are created on the chain
you can create trading pairs between two different tokens.
How Does Binance Chain Work?
Binance Chain will work on a Proof of stake consensus algorithm, specifically called a Proof of Staked Authority (POSA) Where the participants can stake BNB to become a validator. If they propose a valid block they can receive transaction fees from every transaction. Digital assets such as BTC, LTC, ETH, EOS already exist on Binance Chain and they are called "Peggy coins" and these tokens are pegged to assets on their native chains, if you have invested 10 BTC then you can receive 10 BTCB on the Binance chain. You can also store your asset in the crypto wallet, The wallet which supports the Binance chain is
Trust Wallet
Meta Mask
Ledger
Trezor etc...
What Is Binance Smart Chain?
Binance Smart Chain is the next update of Binance Chain and it will run parallel in the Binance Chain it is also called a BSC and it enables the creation of smart contracts for tokens on the Binance blockchain and also introduce an all-new staking mechanism of BNB it is expected to greatly increase the utility to both Binance Chain and BNB. BSC creates an ecosystem where validators, token holders, developers, and users get benefits from a rewarding blockchain that can offer high performance and also give space for further innovations.
What Is BEP-20 Token?
BEP-20 is a standard token on Binance Smart Chain (BSC) which is similar to the ERC20 standard token one of the famous Ethereum Token Standard. BEP-20 contained specified technical aspects for a Binance smart chain (BSC) the main aim of this token to provide a flexible format for developers to launch a wide range of tokens on Binance Smart Chain. BEP-20 Tokens are fully powered with a BNB. One could create a native token on BEP-20 token or else peg tokens from another blockchain to make use of BSC this was also called Peggy coins, which are almost BEP-20 versions of other crypto assets like XRP.
BEP-20 standard allows any tokens on Binance Smart Chain to be used by another application from wallets to decentralized exchanges in a consistent way, this standard interface also extends ERC-20 to facilitate the cross-chain transfer, the main purpose of this BEP is to create a token contract on Binance Smart Chain. Trust wallet also supports BEP-20 Token so you can be easy to draw your digital asset. Binance Smart chain is now live on a mainnet and also ready to be tested by some of the top projects in the crypto industry and it is expected to greatly increase the utility of Binance chain and BNB.
Decentralized Finance (DeFi) On Binance Smart Chain
DeFi Market is currently seeing massive growth in Crypto Space! and it is an alternative financial solution powered by a blockchain. Today nearly Many DeFi projects are done under the Binance Smart Chain such as Pancake Swap it allows users to trustlessly exchange asset similar to uniswap similar products include BurgerSwap and BakerySwap, The Flexibility afforded by Binance Smart Chain, there are many DeFi projects are planning to do their projects in upcoming days and Binance Chain gained a huge value in the DeFi Space. The Cross-chain DeFi mechanisms that can increase the DeFi interoperability and A supportive Binance ecosystem that gives more funds and bootstraps for many DeFi projects, some of the major crypto projects are also collaborating with this Binance Smart Chain (BSC).
How To Create Your Own Token Like BEP-20 On Binance Chain
In order to create your own token on Binance Chain, First, you have to decide what you want your token to be, commonly token are built on different languages, based on the network, Solidity language was mostly used language when it's come to the Ethereum token development. So First you have to choose the right blockchain platform which is like Binance Chain for your token development.
Here's the list of basic things you have to note down for creating your own token on Binance Chain:-
Token Name: When creating a token, you'll need to choose your token name perfectly E.g. "Token name"
Token Symbol: The next thing, for all tokens symbol, is much needed one, so you have to decide your token symbol E.g. "TN"
Token Decimal Places: Token has 8 decimal places, that means fraction part of the tokens E.g "100000000"
Total Supply: You need to note down the number of tokens in circulation, which was allocated by the owner
Balance Of: It returns the token balance of the account to the authorized person address
Where To Create Your Own Token Like BEP-20 On Binance Smart Chain?
There is numerous company provide the best Token Development services but only a few succeeded and got a Branding name around the globe!. Being a leading Token Development Company, Developcoins is well experienced in the Blockchain development to provide complete token creation services and our dedicated blockchain developers help the clients to create their own token like BEP-20 on the Binance Smart Chain with an innovative future at an affordable price!